Careers
Careers education, information and guidance programmes play a major part in helping young people choose pathways that suit their interests, abilities and individual needs. A robust careers programme helps to put school learning into a wider and more relevant context, and helps raise aspirations. The Avon Valley School careers programme helps our students to plan and manage their careers effectively, ensuring progression. It is ambitious and aspirational, promotes equality of opportunity, celebrates diversity and challenges stereotypes.
The AVS careers lead is Mrs Lisa Owen lowen@avonvalleyschool.uk and the full time careers advisor is Mr Chino Ogali cogali@avonvalleyschool.uk.
The careers policy can be viewed in the policies section of the school website and is reviewed bi-annually. The next review will be in March 2024.
The careers programme runs from year 7 to year 11 and each year group is given a wide range of opportunities to engage with and find out about the world of work. Students will:
Receive a programme of specific careers related lessons in PSHE
Have access to Careers resources and information in a variety of places including google classroom and the school website
Receive information relevant to your year group through assembly and tutor time and through specific careers splash days
Have access to an onsite level 6 qualified careers advisor / Have access to a careers advisor
Be given the opportunity to meet a variety of employers
Be given the opportunity to attend careers events on and off site
Complete a week's work experience in year 10
Have the opportunity to take part in a university visit
Take part in a mock interview and careers fair
Learn to write a CV and personal statements
AVS careers overview 2023-24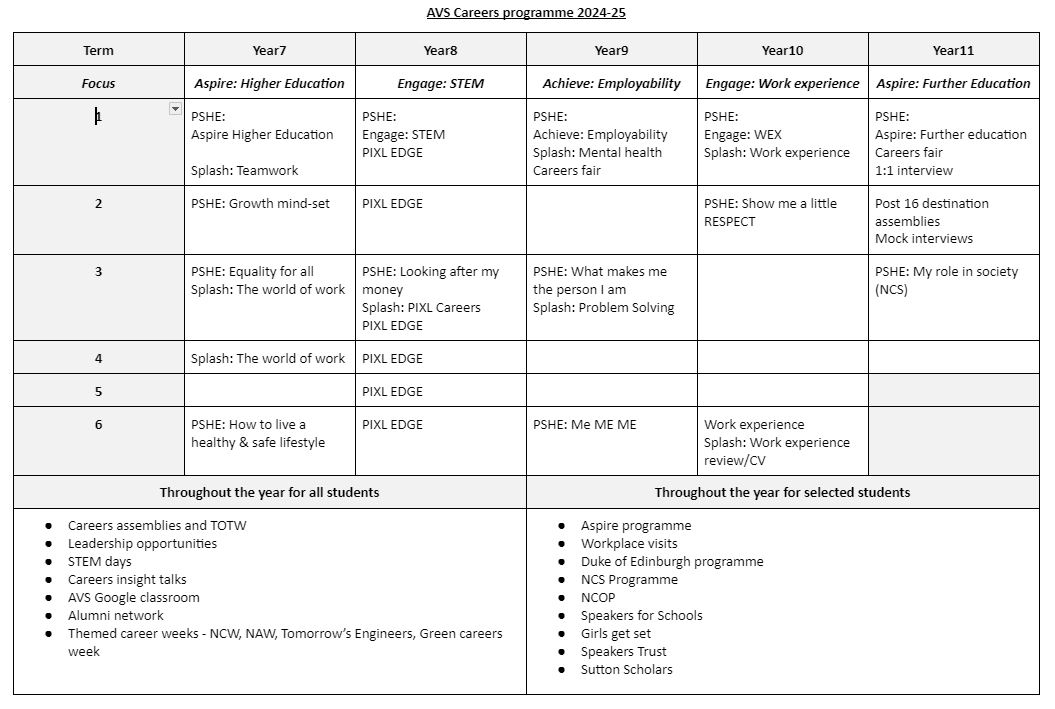 Students careers activities are comprehensively tracked through COMPASS+. these are reviewed annually and create next steps.
Monitoring and evaluation takes place through:
Lesson observations and learning walks
Student voice
Student feedback on their experience of the careers programme
Informal feedback from external partners and parents
Evaluation of work experience by students and employers
Annual parental evaluation
Destination data post 16 and post 18
parents/carers
Parents/Carers are an important source of careers information and guidance. Where can you get up-to-date sources of information? below are some signposts to impartial information.
Regular posts on your child's Careers Google classroom and, as a Google Guardian, you will be able to see these posts
Websites listed above
Mr Ogali (AVS careers advisor) cogali@avonvalleyschool.uk is available to email for impartial careers advice
Mrs Owen/Mr Ogali will keep you up-to-date via email with events your child could go on, open evenings and important deadlines for post 16 planning, as well as informing you of careers events that have taken place in school through the school newsletter
Mr Ogali attends all parents' evenings for years 8-11 as well as options evening and appointments can be made via the online booking system
If you would like more information, or would like to participate in a careers event, please contact Mrs Owen lowen@avonvalleyschool.uk for further information.
teachers
The eight Gatsby Benchmarks are the core dimension of good careers and enterprise provision in schools. They have a key role in raising young people's aspirations and promoting access to all careers pathways, enabling all young people to develop the skills and outlook they need to achieve career wellbeing and underpin the DfE guidance to schools on meeting their statutory responsibility for careers guidance.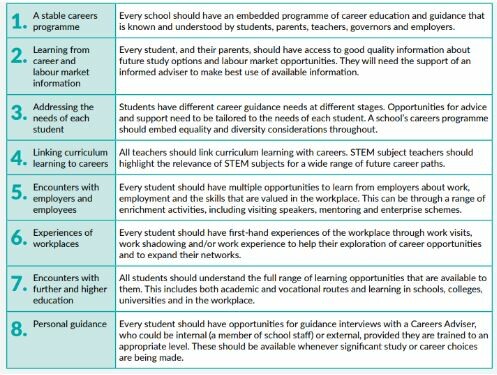 employers
As an employer/employee could you help the students at AVS by:
Attending school careers fair
Delivering presentations on your companies specialist area within a curriculum area or an assembly
Attending mock interviews
AVS can support your company in the following ways:
Promoting vacancies
Promoting apprenticeships
Promoting volunteer placements
Providing employees with opportunities to develop their employability skills (plan, organise and deliver presentations to audiences of different sizes and develop communication skills)
Please contact Mrs Owen lowen@avonvalleyschool.uk if you would like further information about employer engagement at AVS.
policies
Policies relevant to CEIAG are found on the policies page.
Careers policy
Equal opportunities policy
Provider access policy
careers staff
Mrs Lisa Owen
Career Lead
Mr Ogali
Career Advisor and Work Experience Coordinator