Black History Month
13 Oct 2023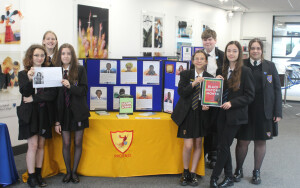 As part of Black History Month the students at The Avon Valley School and Performing Arts College took part in the 'Great Big Live Assembly' which was streamed live on October 10th 2023. The theme of the special assembly for Black History Month was 'celebrating sisters' and was dedicated to showcasing some of the stories of amazing Black women who have made our world a better place.
The UK-wide 20-minute virtual assembly connected more than 500 schools simultaneously and involved around 300,000 young people. The live event was organised by the charity Sanctuary Foundation and was hosted by Dr Krish Kandiah OBE, who leads the charity. The assembly was co-hosted by, Jeriah Kibusi, a 12-year-old BAFTA-award winning journalist, and BBC presenter Gemma Hunt, best known for presenting Swashbuckle and Songs of Praise.
In addition, students belonging to the school's wellbeing council have created and displayed a range of posters celebrating the achievements of people from the black community in a range of fields. One such poster celebrates Dame Elizabeth Anionwu a British nurse, health care pioneer, lecturer, and Emeritus Professor at the University of West London. One of her first major milestones was becoming the first UK Sickle Cell Nurse Counsellor in 1979.
Blake Francis, headteacher, said, "It was great to see our students engaging with the Great Big Live Assembly during a specially extended tutor period. It's also been great to see the display, created by our students, celebrating BHM in our reception area. This has given our students opportunity to recognise and celebrate the achievements and contributions made by individuals from African and Caribbean backgrounds."