BBC Visits Avon Valley School
9 Nov 2022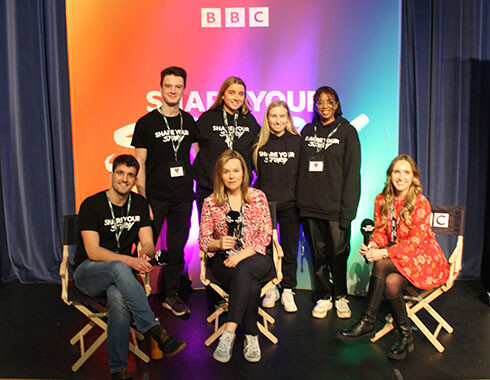 Students at The Avon Valley School and Performing Arts College were recently visited by the BBC as part of a centenary project which aims to inspire young people to achieve their career goals and help realise their ambitions. 
As part of the visit over 900 students who attend Avon Valley from Years 7 to Year 10, heard how Nicola Haseler, a BBC reporter and journalist, and weather presenter Abbie Dewhurst, started their careers in the media industry.
The visit forms part of the BBC's landmark centenary education project, BBC 100 Share Your Story, which will deliver more than 2000 face-to-face storytelling and careers sessions in over 700 school. The tour aims to reach up to 10,000 students each day and over 400,000 teenagers by the end of the BBC's centenary year.
In their presentations both Nicola Haseler and Abbie Dewhurst shared information about their journey into media and working with the BBC. Their stories started with their childhood interests, and included their education pathways, the opportunities and setbacks they experienced and how they got their present jobs.
Following the visit Nicola Haseler sent a message to the school, via Twitter, saying: "What engaged, inquisitive students you have - thank you for having us and letting us share our stories". Weather presenter, Abbie Dewhurst, also sent a tweet thanking the school and students for their "warm welcome".
Alison Davies, Headteacher, said: "The students really enjoyed hear the stories Nicola and Abbie had to share about their experiences and careers. We are really grateful to them and the whole BBC Story Your Story team for visiting us and giving our students this experience. As a performing arts school, the art and media play a big part in inspiring our students and this was a great opportunity for us."