Maths Challenge Success
9 Mar 2023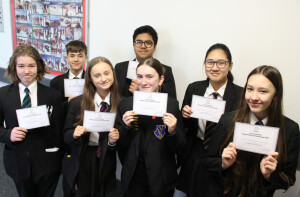 Talented mathematics students from The Avon Valley School and Performing Arts College have recently been presented with certificates following their participation in a national Maths Challenge.
Each year the UK Mathematics Trust, a registered charity whose aim is to advance the education of children and young people in mathematics, run a junior, intermediate and senior maths challenge for students across the United Kingdom. The challenged is entered by around 700,000 pupils each year and is the UK's biggest national maths competitions.
Students from The Avon Valley School were entered for the Intermediate Maths Challenge which is a 60-minute test that encourages mathematical reasoning, precision of thought, and fluency in using basic mathematical techniques to solve interesting problems. In total over 120 students from The Avon Valley School took part in the challenge, of those who took part one student received a gold certificate, nine students received a silver award and nineteen students received a bronze certificate.
Year 10 student Ola Krajewska who received Avon Valley's only a gold certifcate. In addition Emelia Awang, Abdul-Hadi Baig, Nataniel Ulanicki, Connie Wallis, Charlotte Amer, Ruo Lin, Lily Melia, Eleanor Warren and Maciej Wisniewski all received a bronze certificate.
Maths teacher, Esther Quarmyne, who organised the challenge at Avon Valley School, said: "We were very pleased to receive 29 certificates and we're really proud of all the students who took part in the challenge."
Headteacher, Alison Davies, said "Once again it is good to see so many of our students getting involved in this opportunity. I am proud of everyone who took part and I am delighted to see so many students receiving a certificate."