Open Evening Success
22 Sep 2023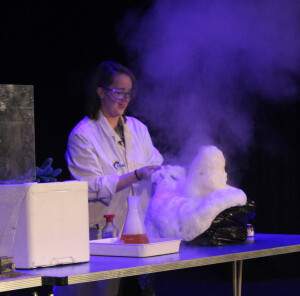 On Thursday 21 September, The Avon Valley School and Performing Arts College threw open its doors and warmly welcomed prospective students and their families for the school's open evening.
During the evening, hundreds of year 6 pupils and their families had the opportunity to tour the school, meet students and staff, see and take part in sample lessons and activities, ask questions, and hear from the school's new headteacher, Mr Francis.   
Visitors to the school's open evening were given a guided tour of the school's classrooms and facilities and were able to interact with current students who were showcasing their work and offering a range of exciting activities. The tours were led by students who are currently in Year 7 to Year 11 who had volunteered their time to act as guides. 
In the school's theatre, prospective students were able to hear from headteacher, Mr Francis, and the newly appointed student leaders: Drew, Lavinia, James and Daisy. A number of Year 7 students, who have only been at Avon Valley for three weeks, also spoke about their experiences since joining the school.
In addition, staff across the school opened up their classrooms to demonstrate a range of subjects and give the visitors a chance to get hands-on with equipment and activities. A highlight of the evening was the exciting experiments demonstrated by Mr Mushing and Mrs Spencer-Woodcock from the school's science faculty.
Blake Francis, headteacher, said, "It was brilliant to see our open evening so well attended. As a school, we have so much to offer, and it is very important that parents and, more importantly prospective, students have the opportunity to see this and experience first-hand what AVS is all about. I am very grateful to our wonderful staff and fantastic students for making the event such a success. We have received a lot of complimentary feedback about the evening and in particular about our student ambassadors, who did a great job throughout the event."