Football Coaching Session
2 Mar 2023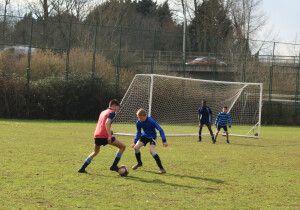 A group of Year 10 students from The Avon Valley School and Performing Arts College have recently been put through their paces by coaching staff from Rugby Borough FC's academy.
Academy manager and head coach, Liam O'Neill, visited the school to work with 40 year 10 students. As part of the visit Liam, who was joined by coaches Will Grocott and Joe O'Neill, put the students through a number of training drills before being splitting the students into teams so they could they play some small sided matches, putting their skills to the test.
During the session Liam O'Neill, who has played football both professionally and semi-professionally enjoying spells with teams such as Mansfield Town, Cheltenham Town, Banbury United and Evesham, told the students about the opportunities available to them to learn and play football at the academy once they leave school.
Following the session Liam O'Neill said: "It's been a pleasure to be back at Avon Valley and to work with their students. It was great to see them engaged, performing well on the pitch, and most importantly enjoying themselves. In the past, we have welcomed many students from AVS to our academy and we look forward to welcoming more in the future".
Alison Davies, Headteacher, said, "This was a great opportunity for these year 10 students to be trained by coaches from Rugby Borough Academy. Each year a number of students choose to continue their education with the football academy once they leave school. Events such as are really important as they help our students to find out about their post-16 options, we're really grateful to Liam, Will and Joe for spending the morning working with our students. "