New Head Boy and Girl
4 Sep 2023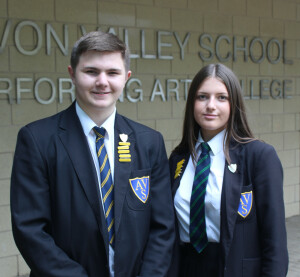 The Avon Valley School and Performing Arts College is pleased to announce that the school's head boy, head girl, and senior prefects have been appointed for the forthcoming academic year.

During the summer term, students wishing to apply for one of the school's student leadership positions were asked to complete an application form. Those shortlisted for the positions were invited to attend an interview, which was conducted by the school's new headteacher, Blake Francis, and each student's achievement leader.

The candidates who'd put themselves forward also recorded a short video to promote their application among the school's students. To bring an element of democracy to the process, all students had the opportunity to vote for the candidate they thought would be the best for the position.

Well over twenty students applied for the positions and completed the application process. For many of them, this was their first experience in an interview situation.

Following the process, Mr Francis had the difficult decision of appointing students to their roles. After much consideration, Year 11 students Drew Wallis and Lavinia Poiata, were appointed and have now taken up their roles as head boy and head girl, which they will fulfil until they leave the school in July 2024.

In addition, James Cowley and Daisy Harris were appointed as the school's deputy head boy and girl. Charlotte Amer was appointed as events captain, and Zara Francis was appointed to lead on anti-bullying and well-being.

The head boy, head girl, and senior house prefects represent the school's student community, serve as ambassadors at school events, and act as positive role models for the school's younger
students.

Blake Francis, headteacher, commented, "Leading the senior prefect interviews was one of my first opportunities to meet the students of The Avon Valley School. I was really impressed with their politeness, enthusiasm, and determination. Senior prefects are role models for the whole community, and I am sure Drew, Lavinia, James, and Daisy, along with Charlotte, Zara, and the house captains, will do a wonderful job in their new roles. I look forward to working with them and indeed all of the school's students over the forthcoming year."