AVS Welcomes Mr Francis
4 Sep 2023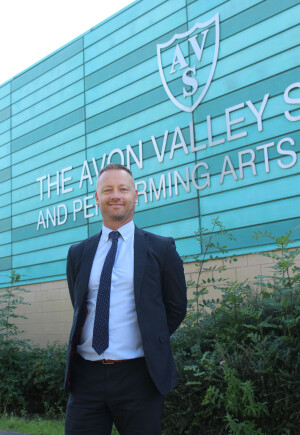 The beginning of a new term marks the start of a new chapter at The Avon Valley School and Performing Arts College as the school welcomes a new headteacher.

Blake Francis was appointed as the school's new headteacher during the summer term after the school's former headteacher, Alison Davies, announced her retirement following 35 years of working in education.

Mr Francis has worked in education for 20 years, beginning his career as a physical education teacher. He joins The Avon Valley School from East Leake Academy, in Leicestershire, which is part of the Diverse Education Trust. He had worked at the school for the past 13 years across a wide range of senior leadership roles and had been the academy's Principal since 2019.

Prior to taking over the reins on the first day of term, Mr Francis spent time at AVS getting to know the school along with its students and staff. Mr Francis spoke to the parents and carers of the new year 7 intake and welcomed them to the school community during their induction evening in July. He also spent time meeting staff and interviewing the year 10 students who'd applied and put themselves forward for senior prefect positions.

Blake Francis, the school's new headteacher, said, "I am very excited to be taking over as the headteacher at The Avon Valley School. This is a fantastic school that is in a strong position, having recently had a very positive Ofsted inspection, along with a great set of results in the summer. Prior to starting, I was fortunate to be able to work with Miss Davies, the school's governors, and leadership team to ensure a smooth handover."

"On my visits, and since joining, I have been warmly welcomed by everyone and I am looking forward to working with the whole school community and leading the school as it continues its journey to greatness. I am keen to build upon the school's strengths and successes and want to ensure every student has the opportunity to achieve and, more importantly, to be the very best they can be."

Mr Francis added, "Leading the senior prefect interviews was a great opportunity to meet and hear from some of the students, and I was really impressed with their politeness, attitude, and focus. During my first week the students have continued to impress me as we've welcomed them back following the summer break. It clear that the school has a very strong sense of community, and I already feel proud to be a part of it."