Railway STEM Day
13 Apr 2023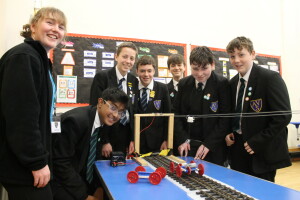 Year 9 students at The Avon Valley School and Performing Arts College have recently taken part in a hands on STEM day focusing on the rail industry.  
As part of the full day's activities students took part in a range of tasks that included design a railway station and experimenting with pulleys and gears to enable a train model to move efficiently, this was then tested on a model track. The students were also tasked with delivering a presentation about the findings from their activities.
The engaging STEM day was made possible through The Heart of England Community Rail Partnership who have partnered with the Smallpeice Trust to deliver an exciting science, technology, engineering, and maths (STEM) programme to secondary school students across Warwickshire, Coventry and Solihull. 
Funded by CrossCountry Trains, the five year STEM project aims to provide students in year 9 to year 11 with STEM days, visits to offsite rail locations and rail careers events.
Andrew Mushing, science teacher and STEM coordinator, said: "The day gave our students opportunity to put what they learn in the classroom into action within a real life scenario. This gives our students a real insight into where a range of science based subjects can take them in the future, and how these subjects apply to everyday life."
Headteacher, Alison Davies, said: "It was wonderful to see our students working together when engaging in this hands-on STEM day. It is great to hear that this is the start of a programme of STEM activities and that we'll be working with the Smallpeice Trust and The Heart of England Community Rail Partnership more in the future."