Student on Peter Crouch Podcast
14 Jul 2023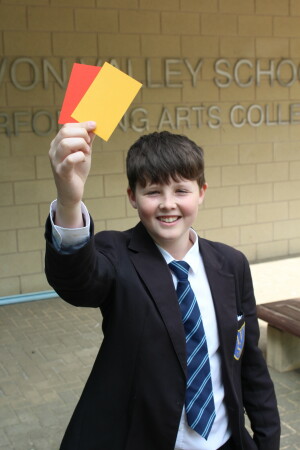 A viral tweet about a Year 10 student from The Avon Valley School and Performing Arts College has recently come to the attention of a former England international footballer and has been discussed on a major podcast.
At the end of the football season the mum of Will Stobson, a Year 10 student, sent a 'shout out' tweet to Grassroots Football, the UK's No1 Grassroots Football Organisation, saying how proud she was of Will's efforts as a young football referee.
The tweet said: "#Shoutout to my son, a 15 year old ref.  This season he has been shouted at, sworn at by parents, coaches, and players, but today as he walked off the pitch he got a round of applause from the parents and even though he gave a red card today, the parents from that team said it was the correct decision. Couldn't be prouder of him and just hope today makes him want to continue doing something he loves."
Since then the tweet has racked up a staggering 2.4 million views, and has been liked almost 25,000 times by people from across the globe. The tweet was shared with ex-footballer, Peter Crouch, and it was discussed on his podcast. On the show Peter Crouch said he'd like to find the young referee, a family friend heard this and told Will's mum, who contacted the show. There are now plans afoot for Will to be involved in an event late in the year.
Will, who completed his refereeing course last year and has just finished his first season as a referee, said: "I was in school and got a message from my mum to say I needed to contact her urgently. At first, I thought something was wrong. Then she told me Peter Crouch had been speaking about me and my refereeing and I couldn't believe it."
Will, added: "being a referee is something I've really enjoyed. I've gained lots of experience and am building my skills and confidence. I am really looking forward to refereeing again next season."
Headteacher, Alison Davies said, "It has been great to learn that Will has been involved in refereeing, and I am amazed that his story has been seen, and shared, by so many people. This is a great story of resilience and we are all really proud of what Will has achieved. We wish him all the best for the season ahead."