OddBalls Visits AVS
11 May 2023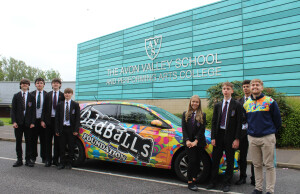 Year 10 students from The Avon Valley School and Performing Arts College were recently visited by The Oddballs Foundation who shared an important message to raise awareness about testicular cancer.
The Oddballs Foundation, famous for producing brightly colour boxer shorts, delivered their assembly to Year 10 students as they are aged between 14-15 years and fall into the age group who are most affected by the cancer.
The engaging assembly was delivered by Tom Smith an Oddballs student ambassador who studies natural sciences at Loughborough University. The main message in Tom's assembly was to encourage men to check themselves for signs of the testicular cancer, which is the most prominent form of cancer found in males aged 15-49 years.
During the assembly, Tom pointed out to the female students that it is important that they too are aware of testicular cancer so they can encourage male friends and family members to check themselves and can give advice if someone is worried. 
Every year around 2,300 men in the UK are diagnosed with testicular cancer. The cancer is unusual, compared with other cancers, because it tends to affect younger men. One of the Foundation's key aims is to raise awareness as early detection is important because testicular cancer is one of the most treatable types of cancer.
Headteacher, Alison Davies said, "It was great to welcome The Oddballs Foundation back to AVS so that they could share their important message with our Year 10 students. It might be an unusual topic for an assembly, but it is important that our students take their health seriously and know what to do if they think something may be wrong".
Visit the OddBalls Foundation website to find out how to check for signs of testicular cancer.