Ex-Student off to USA
14 Jun 2023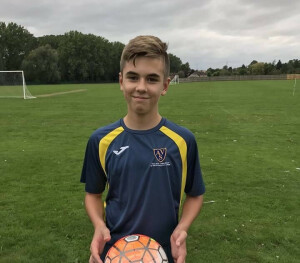 In the summer, a former student from The Avon Valley School and Performing Arts College will be heading to the USA after being offered a football scholarship at an American university.  
Eighteen-year-old, Dan Coles, left The Avon Valley School in 2020 during the midst of the pandemic crisis. Whilst at school talented sportsman, Dan, played not only played for school's football team, but also played at county and district level. After leaving The Avon Valley School, Dan joined the local football academy and went from strength to strength under the tutelage of the academy's coaches, and became an integral part of the academy's team.
In December 2021, Dan was part of the academy team that faced Cheltenham Town FC in the FA Youth Cup third-round. Dan's team, Rugby Town Academy, who moved to Rugby Borough Academy at the beginning of this season, were one of just two teams from outside the football league to progress to that stage of the competition. Sadly, the academy team were knocked out of the competition but made history as it was the furthest the academy had progressed.  In addition, Dan has regularly played semi-professionally for local side Lutterworth Athletic FC as vice-captain.
In August, Dan will pack his boots and will jet over the Atlantic has he heads to Carson Newman University, Tennessee; where he will begin a four-year football scholarship that will combine playing football with academic studies.
Headteacher, Alison Davies said, "This is a fantastic opportunity for Dan who has continued to pursue his footballing dream since leaving us at AVS. As a school we've built up a fantastic link with Rugby Borough FC Academy and many of our students are progressing at the academy, just like Dan has."
Miss Davies, added, "We all wish Dan the very best of luck for when he heads to America in August."