WW1 Soldiers at AVS
21 Apr 2023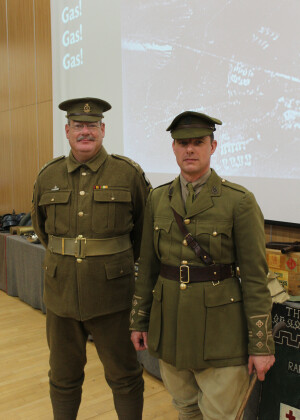 Year 11 GCSE history students from The Avon Valley School and Performing Arts College recently came face to face with Great War soldiers as part of a hands-on learning experience.
As part of their preparation for their GCSE history exam, which takes place in just a few week's time, the students took part in a workshop with First World War experts, David Allton and Richard Townsley, from Frontline Living History. In the two-hour long workshop the students learnt about developments in medicine and the treatment of wounds from the Great War.
The students learnt about the wounds suffered by soldier serving in the trenches and got hands on with the equipment and weapons that would have caused the wounds over 100 years ago. During the sessions the students had opportunity to handle relics from the period including both British and German rifles and hand grenade, a trench mortar, shells, and battlefield shrapnel.
Alison Moore, the school's subject leader for history, said: "Our students study a fascinating module called medicine through time, a section of this focuses upon World War One. It was brilliant to see the module come to life for the students in the session that was delivered by David and Richard. It's not every day that our students get to hold artefacts that their great, or even great-great, grandparents may have held and used".
Headteacher, Alison Davies, said: "Our students were thoroughly engaged through the session delivered by Frontline Living History. As a school it's always good to welcome external speakers to work with our students as this really does bring their learning to life. David and Richard were fantastic and our students gained a lot from their workshop."