AVS Choir Grows
12 Jun 2023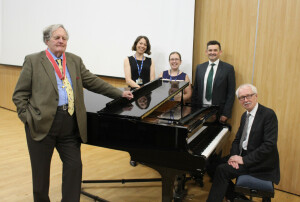 Back in February The Avon Valley School and Performing Arts College launched its choir. At the beginning, around 30 students showed an interest and got involved. However, as word spread, attendance to choir rehearsals steadily increased, and recently attendance has been doubling every week. Now, over 120 students regularly attend choir rehearsals.
The choir are now taking part in First Note Music Trust's school oratorio called 'Starting Out' an exciting project featuring a collection of 14 songs. To launch the partnership over 120 members of the choir were invited to take part in a special two-hour workshop led by two distinguished guests who brought a wealth of experience to the school, benefitting the students.
The school's guests, from First Note Music Trust, were Dr Chris Lowe, a former headteacher who sat on the board of the Royal Opera House, and was awarded a CBE by the Queen. Joining Chris was Colin Sell, a pianist who has appeared on the BBC Radio's long running panel gameshow 'I'm Sorry I Haven't a Clue' for almost fifty years.
The experienced pair, with support from Avon Valley staff, Jake Collins, Sharon Vincent, and Juliet Ranger, along with vocal teacher Emma Butler, put the students through their musical paces with a range of songs, lyrics, and vocal exercises.
Headteacher, Alison Davies said, "It has been absolutely fantastic to see attendance at choir rehearsals increase so rapidly. It is wonderful that so many students enjoy engaging with this activity and enjoy taking part. Having the opportunity to be coached by Colin and Chris, from First Note Music Trust, was a brilliant opportunity and I am pleased to say the students sounded great."