Students Meet Opera House CEO
8 Jun 2023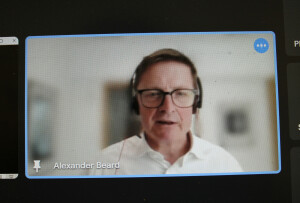 On Tuesday 6th June, over 500 students at The Avon Valley School and Performing Arts College heard from Alex Beard who is the CEO of The Royal Opera House, as part of an event organised by Speakers for Schools – a charity that links schools and industry leaders.
The Royal Opera House is a major performing arts venue in Covent Garden, London, and employs over 1,000 permanent staff. The organisation is led by Chief Executive, Alex Beard CBE and is dedicated to nurturing, creating and sharing world-class opera, ballet and theatre craft.
The opera house includes many departments including: audience and media, estates and facilities, finance, learning and participation, operations, IT and HR, and visitor experience.
During the virtual presentation Avon Valley's students learnt about the wide range of jobs available including: carpenters, set designers, lighting and sound engineers as well as dancers and opera singers. The students were also told about apprenticeship opportunities, and can apply for over 20 apprenticeships that are currently offered by The Royal Opera House
Avon Valley's careers lead, Lisa Owen, said "This is a wonderful opportunity for our students to hear about the career pathway that has taken Alex all the way to the top of the Royal Opera House. Our students learnt that many careers happen by chance, and if Alex had not applied for a temporary position with the Arts Council, he would never have the influential job he has today".
Headteacher, Alison Davies said, "It is really important that our students hear about opportunities available to them and we are grateful to Alex for speaking to our students and also to Speakers for School for putting us in touch. I'd also like to thank Mrs Owen for arranging the event here at AVS and for making so many careers events possible for our students."