Volunteer It Yourself Project Success
15 Jun 2023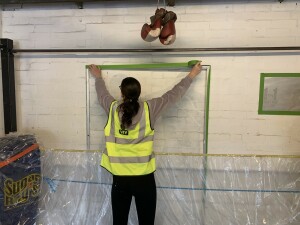 A group of students from The Avon Valley School and Performing Arts College recently rolled up their sleeves and got stuck into a DIY-project that has help them learn new skills, gain a qualification, and give something back to the local community.
The students, from Year 9 and Year 10, were given chance to take part in the 'Volunteer it Yourself' project which gives young people aged 14-24 the opportunity to learn vocational trade skills, gain a qualification and improve their employability whilst volunteering to help the local community.
The students' project took them to The Bradby Club, in Rugby, where the students were responsible for painting and freshening up a number of rooms at the community facility. Using brushes, rollers and many litres of paint, the students developed both their decorating and team working skills. Upon completion of the project, and having been mentored by professional tradespeople, each student was awarded an entry level City & Guilds certificate.
Mark, a mentor with Volunteer It Yourself, sent a message to the school saying that the students were "a credit to your school".
Alison Davies, Headteacher, said, "We have been involved with a number of projects with VIY and this is something that the students have thoroughly enjoyed. It benefits them hugely as it helps them to develop their confidence and develop skills wouldn't have opportunity to in the classroom."