Avon Valley Student Completes Cheerleading Qualification
8 Sep 2021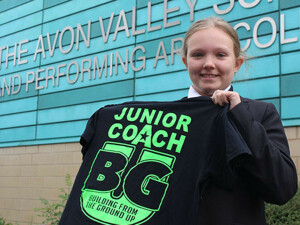 A year 7 student from The Avon Valley School and Performing Arts College has recently completed her cheerleading level 1 junior coaching qualification.
Apollo House student, Mischa Sobalska, has been involved with Roar Cheer and Dance since she was three years old and has now stepped up to become one of the club's coaches. Mischa regularly trains and enters competitions with the Mill Road based club.
Mischa completed her level 1 qualification with Building from the Ground Up and now coaches children, aged 3-8 years, in the Kitten class. On her course Mischa learnt exercises and activities that she can use when coaching younger children. After completing the award Mischa received a t-shirt and certificate. 
Mischa said: The course has given me lots of confidence to work with the younger members of the club. I really enjoy my cheerleading sessions and I want to continue coaching others and competing myself."
Alison Davies, Headteacher, said: "This is wonderful experience of Mischa to be gaining at such a young age. It is always positive to see that students are involved in clubs and activities outside of school and have opportunity to learn and develop new skills. I wish Mischa all the best with her cheerleading and coaching."