Careers Fair at AVS
19 Oct 2023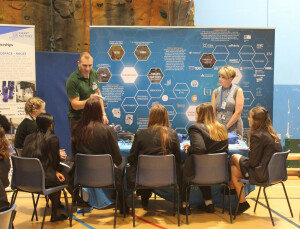 Students at The Avon Valley School and Performing Arts College have recently had opportunity to meet a wide range of employers and businesses, along with education and training providers during a large scale careers event hosted at the school.
Students in Year 11 and Year 9 had opportunity to take part in the event allowing them to hear from organisations such as Warwickshire Police, The Army, The Royal Air Force, Warwickshire County Council. A number of local businesses also attended including Lisi Aerospace, NEJ Stevenson, Barclays, Nationwide Windows and Doors,
Also in attendance were many local post-16 education providers including Moulton College, Rugby High School, Warwickshire College, Bilton School, Stratford College, Rugby Borough FC Academy, Future-Pro Football, Rugby Free School, The University of Warwick, and Heart of England Training.
Lisa Owen, The Avon Valley School's careers leader, said: "We are very grateful to all the organisations who attended the careers fair. It was a huge success which has really benefitted our students and has given them lots to think about. It was wonderful to see the students listening to the information, asking questions and engaging with our guests."
Blake Francis, Headteacher, said, "There was a really positive buzz in the sports hall as the students met the employers and education providers. Our students are lucky to have so many options open to them when they leave AVS. On behalf of the students I'd like to thank everyone who attended the careers fair to work with our students. I'd also like to thank Mrs Owen and Mr Ogali for organising the event which has benefited over 400 of our students."