Arts Award Certificates
3 Oct 2023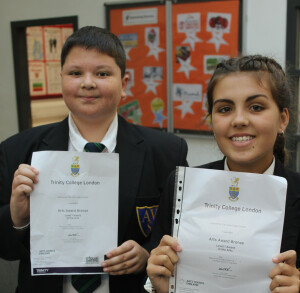 At the beginning of term Year 10 students at The Avon Valley School and Performing Arts College have received notification of their success on the Bronze Arts Award programme.
During year 9 the students, who are now in year 10, had performing arts lessons dedicated to the Bronze Arts Award. Following the submission of their portfolios 167 students will receive the award certificate.
The Bronze Arts Award, is designed for students aged 11-14 years, and aims to develop young people's artistic abilities alongside their research and communication skills. The award involves students in the arts as creators and audience members, and encourages them to take their first steps towards leadership by sharing their learning with others.
As part of the arts awards students specialise and learn about dance, drama, and art, completing both practical work and research task which helps them develop a range of skills and builds confidence.
Blake Francis, headteacher, said, "It is brilliant to see such a large number of students achieving the arts award. Offering the arts award in year 9 helps ensure our students can enjoy, and can benefit from being offered, a broad curriculum. It also underlines and supports The Avon Valley School's commitment to the performing arts, which is a longstanding part of the school's ethos and history. For many of the students this is the first formal qualification they've ever received, and will no doubt be the first of many."