Year 8 Compete in Athletics Competition
9 May 2023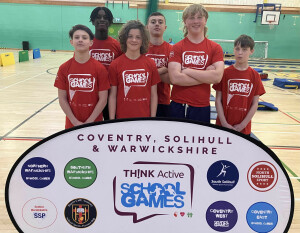 A talented group of Year 8 students from The Avon Valley School and Performing Arts College recently competed and did themselves proud at a schools' county athletics competition.
Back in March the sporty students won the Rugby Town Indoor Athletics Competition which was hosted at Harris School. As a result of their success at the town competition, the Year 8 boys went on to represent East Warwickshire at the Warwickshire County Schools' Athletics Competitions, which were held at Solihull Sports Centre on 19th April.
In the competition, the students competed in a range of athletics events including a mixture of runs, throws and jumps.
PE teacher, Rob Dignum, said: "The boys came fourth overall, narrowly missing out on a medal. This was some achievement indeed given the scale and strength of some of the opposing athletes, many of whom were from prestigious independent schools".
Mr Dignum, added that he was "Extremely proud of the students' impeccable behaviour and manners on the day, moreover the determination and resilience shown throughout the entire competition".
Headteacher, Alison Davies, said: "It was great to see that our Year 8 boys were successful in the Rugby Town competition and that they had the opportunity to compete at county level. Although they just missed out on the medal places, they can all be proud of their involvement, performance and for representing AVS so admirably."