PGL Trip
17 Jul 2023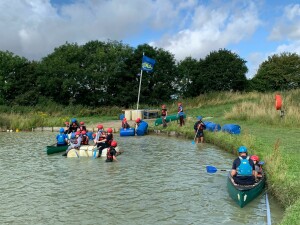 A group of fifty students from The Avon Valley School and Performing Arts College recently visited PGL's Caythorpe Court, in Lincolnshire, as part of an adventurous school visit.
The students, from Year 7 and Year 8, took part in a range of exciting activities during the extra-curricular weekend visit. During the trip students spent time on the centre's lakes canoeing and raft-building. The daring students conquered their fears as they scaled heights on the zip-wire, giant swing, and trapeze with its leap of faith. There was also opportunity to try new activities such as archery tag and aeroball.
Throughout the weekend the students were guided and encouraged by their teacher and expert PGL staff, who demonstrated techniques and encouraged the students to step outside their comfort zones.
Trip organiser, Carole Labrieze, said: "It was a great weekend for the students to get to know each other and take part in new activities. It was amazing to see the students grow in confidence and support each other, particularly with some of the more challenging activities."
Alison Davies, Headteacher, said, "It's important that our students have opportunity to develop skills, such as team work and cooperation, outside the classroom. This is one of a new of visits our staff have led to give our students these opportunities. It was great to hear the trip was a success."