British Science Week
5 Apr 2023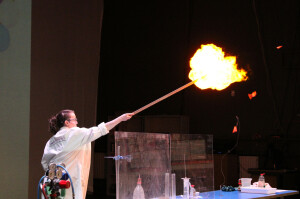 Students at The Avon Valley School and Performing Arts College have recently taken part in a range of exciting activities as part of British Science Week.
To inspire and engage students two of the school's science teachers, Mr Mushing and Mrs Spencer-Woodcock, showcased a range of exciting chemistry experiments to over 400 students from Year 7 and Year 8.
The chemistry experts' experiments included making elephant's toothpaste using hydrogen peroxide, washing up liquid, and potassium iodide. Exploding balloons and bottles filled with gases, and showing the students burning magnesium and the effects of dry ice.
In addition, during their science lessons students in Year 7 and Year 8 looked at how to make gliders, created barometers and explored how we're connected to the oceans. The school's science teachers also took time to explain how the week's activities and demonstration linked to industry and scientific careers.
Headteacher, Alison Davies, said: "I am really grateful to our science department for running these activities as part of British Science Week. A real highlight was the chemistry demonstration ran by Mrs Spencer-Woodcock and Mr Mushing, this was a great opportunity for students to see a range of experiments that they wouldn't normally get chance to see."