Careers
Careers education and guidance programmes play a major part in helping young people choose pathways that suit their interests, abilities and individual needs. A robust careers programme helps to put school learning into a wider and more relevant context, and helps raise aspirations.  The Avon Valley School careers programme helps our students to plan and manage their careers effectively, ensuring progression. It is ambitious and aspirational, promotes equality of opportunity, celebrates diversity and challenges stereotypes.
The AVS careers lead is Mrs Lisa Owen lowen@avonvalleyschool.uk  and the full time careers advisor is Mr Chino Ogali (cogali@avonvalleyschool.uk).
The careers policy can be viewed in the policies section of the school website and is reviewed bi-annually. The next review will be in March 2024.
The careers programme runs from year 7 to year 11 and each year group are given a wide range of opportunities to engage with and find out about the world of work. Students will:
Receive a programme of specific careers related lessons in PSHE

Have access to Careers resources and information in a variety of places including tutor boxes, google classroom and the school website

Receive information relevant to your year group through assembly and tutor time and through specific Careers Splash days

Have access to an onsite Level 6 qualified careers advisor

Be given the opportunity to meet a variety of employers

Be given the opportunity to attend careers events on and off site

Complete a week's work experience in year 10

Have the opportunity to take part in a university visit

Take part in a mock interview and careers fair in year 11

Learn to write CV's and personal statements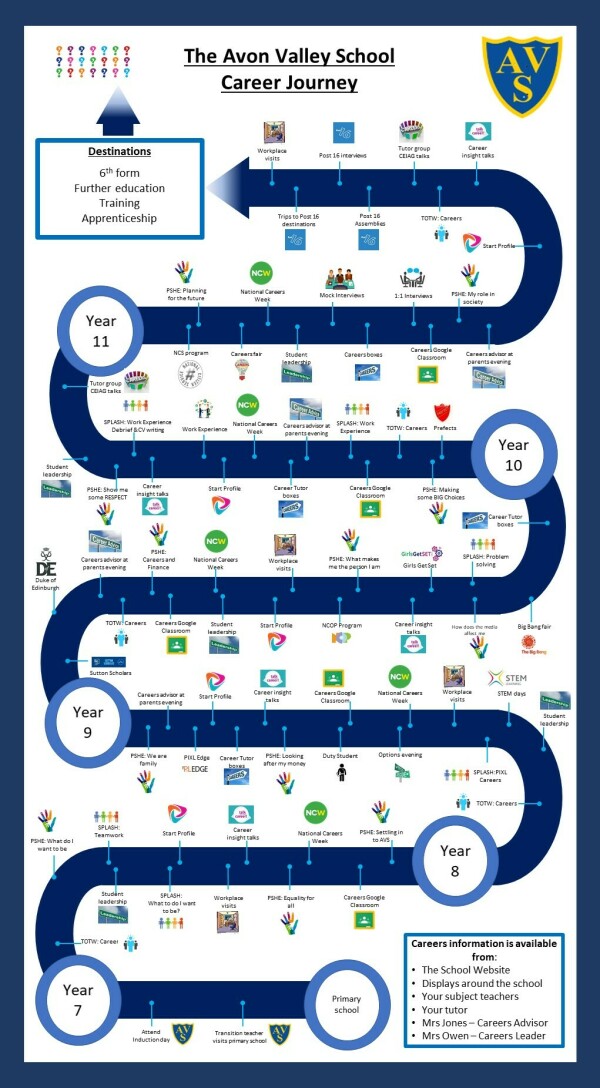 Summary of the AVS careers programme.
Careers education is an integral part of Personal, Social and Health Education (PSHE), splash days and tutor periods. The Avon Valley School has its own dedicated Careers Advisor and provides careers education and opportunities for all students. The programme includes:
Year 7 – Grow throughout life
All Year 7 students cover the topics. Settling in to AVS, Growth Mindset, Equality for all,  Careers: Grow throughout life and How to stay safe in PSHE. There is a careers SPLASH day along with a number of assemblies and presentations which help students to start thinking about their future including what qualifications are needed for which careers, the importance of EBacc subjects (English, Maths, Science, Computer Science, Languages, History and Geography) and thinking about university and apprenticeships.
Year 8 – Exploring the possibilities
Exploring possibilities is the theme of this year. Students are supported in choosing their option subjects so they complement any career they might choose to follow in the future. Students have the opportunity to be a duty student for a half a day. There is a careers SPLASH day along with a number of assemblies by employees and employers. In PSHE students study a unit entitled Looking after my money in the spring term.
Year 9 – Creating opportunities
In PSHE students study the topic Careers: Creating possibilities and Me Me Me. Students have a problem solving splash day.
Year 10 – Balancing life and work
This year the focus is on the World of Work.  In PSHE students look at Careers: Balancing life and work and Show me a little RESPECT in PSHE. A splash day begins to prepare students for work experience where preparation for work experience is completed. All students write a letter to an employer and take part in a pre-visit, prior to spending a week at work experience placement. Work experience is compulsory for all year 10 students. During this year many students apply, interview for and receive roles of responsibility within the school as prefects, allowing students to develop their leadership skills. There is a number of assemblies by employers and employees.
Year 11 – Managing my career
This year focuses on Life after AVS. Students have several assemblies from local post 16 providers and have opportunities to visit many of the providers. In PSHE, students focus on Careers: Managing my career and time is spent preparing for mock interviews that all participate in. A careers fair is held where students hear about Apprenticeships, university life and local businesses. All year 11 have a careers interview that parents are welcome to attend. Furthermore, students have several encounters with the National Citizenship Service (NCS) with many participating in their summer placement.
All years
The AVS Careers Advisor is present at the parents' evenings for year 8 -11. All students participate in National Careers Week where they experience a wide range of jobs and careers within their curriculum subjects and look at labour market information regarding these jobs. All students can participate in the school council. Students are offered the opportunity to participate on trips, both within curriculum areas and those organised by the careers office. STEM opportunities are offered in addition to this.
Students' careers activities are comprehensively tracked though COMAPSS+ and internal systems. These are reviewed annually to manage agreed action plans and create next steps.
Monitoring and evaluation takes place through:
 Lesson observations and learning walks
 Student voice
 Student feedback on their experience of the careers programme
 Informal feedback from external partners and parents
 Evaluation of work experience by students and employers
 Annual parental evaluation
 Destination data post 16 and post 18
Parents/Carers
Parents/Carers are an important source of careers information and guidance. Where can you get up-to-date sources of information? Below are some signposts to impartial information.
·         Regular posts on your child's Careers Google classroom and as a Google Guardian you will be able to see these posts.
·         Websites listed above
·         Mr Ogali (AVS careers advisor) cogali@avonvalleyshool.uk is available to email for impartial careers advice
·         Mrs Owen/Mr Ogali will keep you up-to-date via email with events your child could go on, open evenings and important deadlines for post 16 planning as well as informing you of careers events that have taken place in school through the school newsletter.
·         Mr Ogali attends all parents' evenings for year 8-11 as well as options evening and appointments can be made via the online booking system.
·         Start Profile https://www.startprofile.com/ - Start is a free, online careers platform, designed to connect 11-18 year olds with their future career potential. You are welcome to set up an account. It has lots of local LMI.
If you would like more information, or would like to participate in a careers event, please contact Mrs Owen lowen@avonvalleyschool.uk for further information
Teachers
The eight Gatsby Benchmarks are the core dimension of good careers and enterprise provision in schools. They have a key role in raising young people's aspirations and promoting access to all careers pathways, enabling all young people to develop the skills and outlook they need to achieve career well-being and underpin the DfE guidance to schools on meeting their statutory responsibility for careers guidance.
Careers and labour market information
https://www.startprofile.com/ - Start is a free, online careers platform, designed to connect 11-18 year olds with their future career potential
https://nationalcareersservice.direct.gov.uk/ National careers service    
http://www.lmiforall.org.uk/widget/LMI for all. The widget can be used to explore and compare key information about occupations to support the process of identifying potential careers.
https://www.nomisweb.co.uk/  Nommis - A one stop shop for labour market information
https://icould.com/I Could
https://www.tomorrowsengineers.org.uk/ have great careers sections (Real Jobs) with job profiles and it is perfectly pitched for their target audience                                                          
Employers
As an employer/employee could you help the students at AVS by:
·         Attending school careers fair
·         Delivering presentations on your companies specialist area within a curriculum area or an assembly
·         Attending mock interviews
AVS can support your company in the following ways:
·         Promoting vacancies
·         Promoting apprenticeships
·         Promoting volunteer placements
·         Providing employees with opportunities to develop their employability skills (plan, organise and deliver presentations to audiences of different sizes and  develop communication skills)
Please contact Mrs Owen lowen@avonvalleyshool.uk if you would like further information about employer engagement at AVS.
Policies
Policies relevant to CEAIG are found on the policies page.
Careers policy
Equal opportunities Policy
Provider access policy
Policies relating to our career provision can be found on our policies webpage
Useful Information